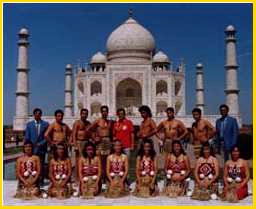 March 1990: Taking Kapa Haka to India
Taking Kapa Haka to The World
In March 1990, we toured India, the first Maori cultural team to be invited by the Indian Government as guests on a reciprocal Cultural exchange.
This has been one of the most exciting tours to date.  There were many highlights such as walking the banks of the sacred Ganges River, congregating at Gandhi's monument, travelling through the poorest part of Calcutta where Mother Teressa lived and a visit to the Taj Mahal (the love Museum – a wonder of the world).
The major highlight for me was in the capital Bombay, now known as Mumbai.  There we met a young 9-year-old boy who was homeless and had no family.  I made the mistake, or so I thought, of buying him an ice cream and from there on he latched on to us.