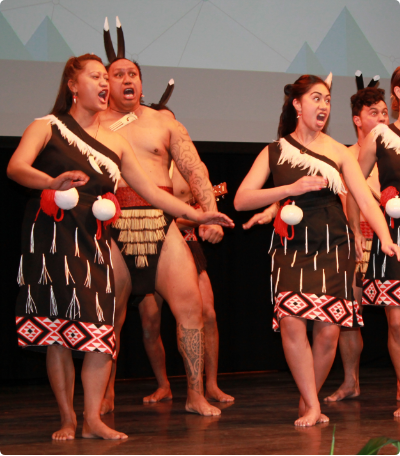 Haka Powhiri for NZSE Graduation
The Haka Experience set the tone at the NZSE (New Zealand School of Education) award ceremony, opening the occasion powerfully and passionately.   
An eloquently performed Karanga (call to guests) supported by a powerful Haka Powhiri traditionally welcomed the mass of graduates and their family and friends. 
The audience settled with warm greetings from The Haka Experience followed by a polished set of items that entertained the crowd. 
The elements of this performance encompassed a range of musical items, beginning with the signal of the Putatara (conch shell) which indicated the opening of the occasion followed by the melodies of the guitar which accompanied the harmonies of waiata-a-ringa (action songs). 
The elegance of the poi and its unique beats humbly hit the hearts of the audience while demonstrations of traditional weaponry added a positive sense of strength and energy to the atmosphere.